Genshin Impact is a role-playing game where you can select characters. It feels like you are playing anime with a great story.
If you are not enjoying the voice-overs, in other words, the voices of characters, you are not enjoying the game. It's a considerable debate regarding voice-over best language to play Genshin Impact.
A Chinese game studio, miHoYo, has developed this game.
So, Chinese Voice-over is the original and is top-rated when it comes to voice-overs. The character's mouths are synced with the Chinese voice-overs compared to other language voice-overs.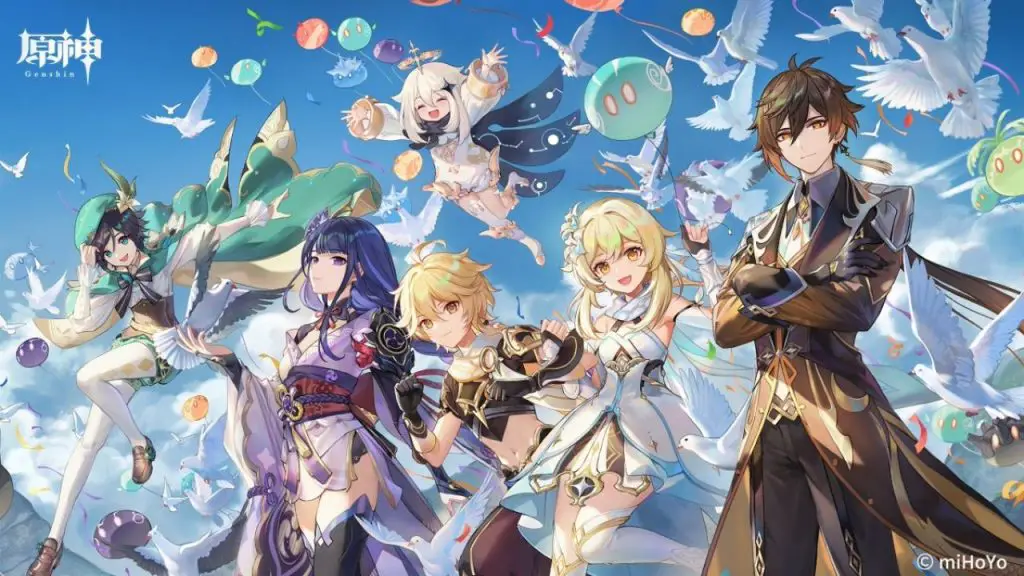 The rating each Character receives depends on matching, authentic experience, and consistency of the real voice-over artist's performance.
In this article, you can learn about the opinions and ratings of Genshin Impact voice-overs.
Chinese Voices: Opinion and Rating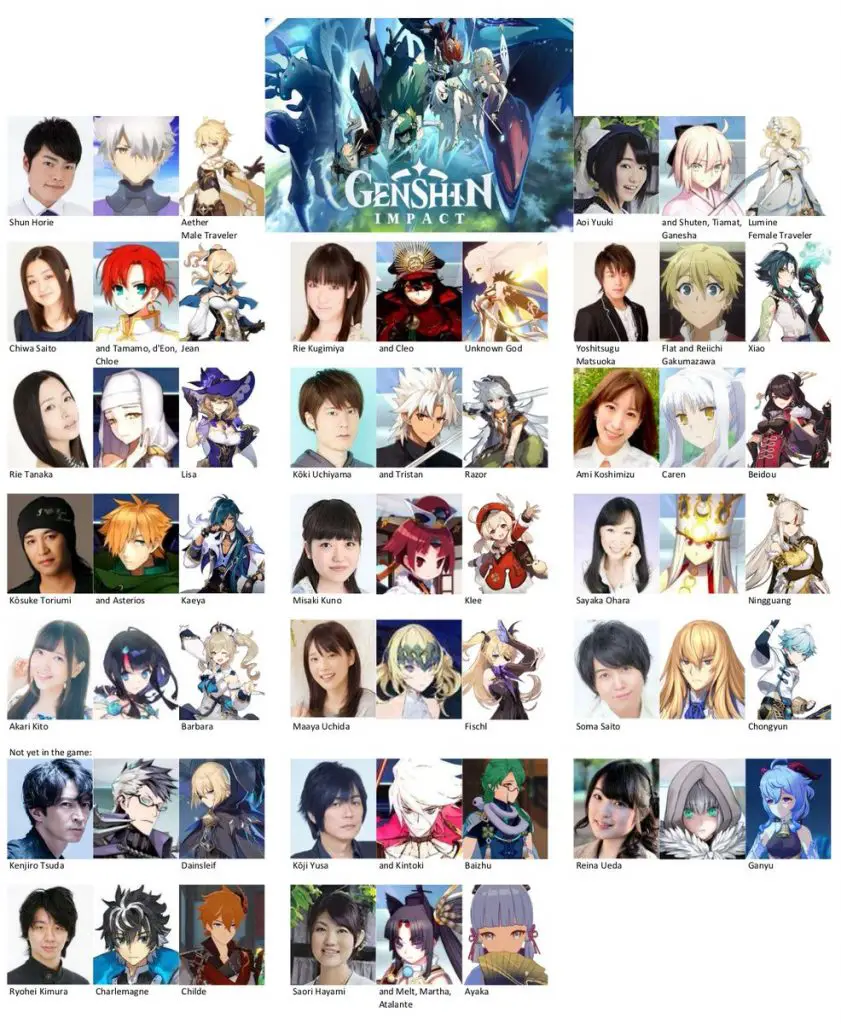 The game is developed by Chinese developers, directors, and story writers. Hence it has put their thoughts process, and originality in ChineVenti'se of Venti's sounds fantastic and, if you want, authentic experience while playing.
The Chinese voice-over is worth consideration. The best Chinese voices in the game are probably Xiao (played by Kinsen), Albedo (played by Mace), and Ningguang (played by Mingya Du).
Venti's voice actor is a great singer, but after seeing Venti sneeze in English, the Chinese sneeze felt a bit too plain.
Overall, I'd give the Chinese voice an 8/10 since the quality is consistent for all VA.
Japanese Voices: Opinion and Rating
Suppose you are an anime fan. You would have tried or considered trying Japanese voices. You can easily recognize Voice Artists from Japanese Animes.
Following are the artists hired by miHoYo Studio for the Japanese voices.
| Voice Over Artist | Character | Previous Work |
| --- | --- | --- |
| Nene Yashiro | Barbara | Toilet-bound Hanako-kun |
| Hog | Klee | Seven Deadly Sins |
| Chika Fujiwara | Mona | Kaguya-sama: Love is War |
| Tomura Shigaraki | Razor | Boku No Hero Academia |
| Izumi Sagiri | Sucrose | Eromanga Sensei |
| Erza Scarlet | Ningguang | Fairy Tail |
| Kirito | Xiao | Sword Art Online |
| Shoyo Hinata | Venti | Haikyuu |
| Tenten | Qiqi | Naruto and Naruto: Shippuden |
| Norman | Fischl | Yakusoku no Neverland |
| Ai Hayasaka | Yanfei | Kaguya-sama: Love is War |
| Mitsuru Kirijo | Lisa | Persona 5 |
| Mami Nanami | Lumine | Rent-A-Girlfriend |
| Homura Akemi | Jean | Puella Magi Madoka Magica |
| Kanao Tsuyuri | Ganyu | Demon Slayer: Kimetsu no Yaiba |
| Tohru Honda | Diona | Fruits Basket |
| Kagura | Unknown God | Gintama |
| Yui | Keqing | Angel Beats |
| Megumi | Hu Tao | Konosuba |
| Chiyo Sakura | Xiangling | Gekkan Shoujo Nozaki-kun |
| Giorno Giovanna | Diluc | oJo's Bizarre Adventure |
Voice-over Artists for Japanese Language
All of them are wonderful voice-over artists, and I even like Japanese dub more than chinese, but I'll give it 2nd place with a 7.5/10 rating because of general public opinion.
English Voices: Opinion and Rating
There is also an extensive VAs list, but I will name a few like Keith Silverstein and Yuri Lowenthal being fabulous voice artists.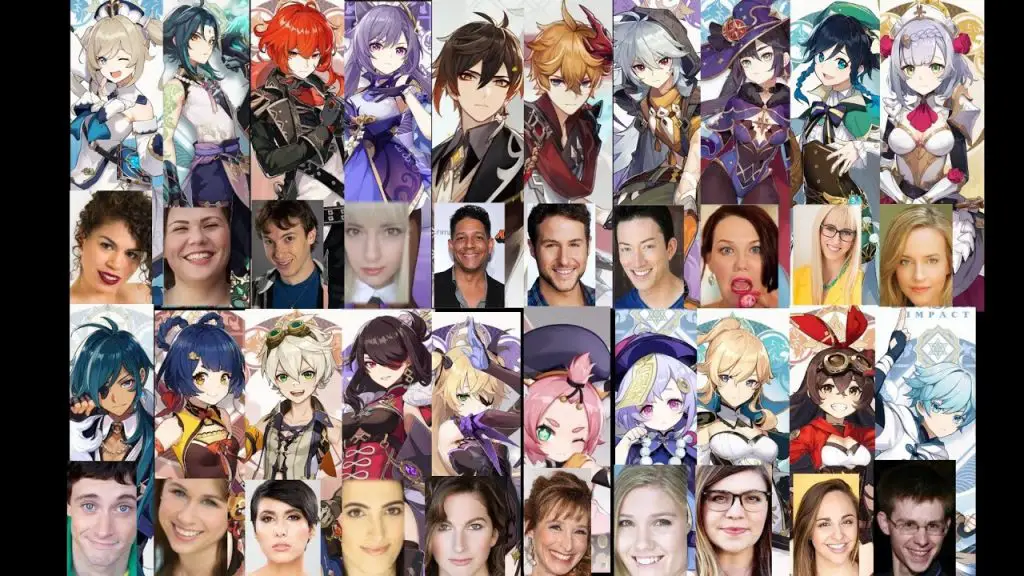 Zhongli's voice actor, Keith Silverstein, is outstandingly good. I almost have nothing left to say.
His voice somehow captures the originality of character, love ancient land of Liyue, and his powerful, mysterious presence and whimsical personality quirks.
Dainsleif's voice actor is also Yuri Lowenthal, who plays Sasuke, for all anime-loving emos and fellow hopeless fangirls out there.
In general, I'd say every Genshin Impact character with a voice crack in English is a good one; examples include Kaeya, Tartaglia/Childe, Diluc, Yanfei.
English dub is good; I'll say about 7.5/10. 
Korean Voices: Opinion and Rating
I tried Korean dub while in Liyue, and I'm happy I tried Ganyu's Korean voice. Ginyu's Korean VA is by far the best out of all Ganyu's voice actresses, and the vibe is a bit like.
I played in a rural meadow of flowers that was once a battlefield. I could fall asleep to Ganyu's Korean voice, no kidding.
Tartaglia/Childe's Korean voice is also pretty nice, though it's a bit deeper than the other voices.
Honestly, those were the only voices that stood out to me, and female characters like Xiangling and Hu Tao were slightly off in terms of personality.
The Korean voices are worth a shot if you want some diversity while playing, but frequently switching between English and Korean makes me lose concentration, especially in battle. I don't know; it might just be me and my 3-second attention span. 
I'd say Korean voices get a 5/10.
Conclusion
In conclusion, Chinese is, in my opinion, the best language, Japanese as the second. English as third and Korean as fourth. I haven't played Korean as much, but it might be a preference for many.
I think all of the languages in Genshin Impact are top tier. Genshin Impact is an excellent Game, and From Acting Grand Master Jean of Mondstadt to the Ferrylady of the Wangsheng Funeral Parlor, every character in Genshin has a notable voice that reflects their inner thoughts, giving their personality depth and dimension.
Was this article helpful?