Genshin impact is an action role-playing game increasing in popularity day by day. Many new players are joining the game as it's fun to play and currently.
Currently, Genshin Impact has 13 text Languages and four voice-overs.
You can change text and voice-over individually and make any combination you like.
Gensgin Impact Supports the following text languages, which you can change in setting.
English
Simplified Chinese
Traditional Chinese
Japanese
Korean
Indonesian
Thai
Vietnamese
German
French
Portuguese
Spanish
Russian
Genshin Impact Supports the following voice-over languages, which you can change in setting.
English
Chinese
Japanese
Korean
how to change Genshin Impact language
To change the Genshin Impact language, you need to open the Paimon menu and click on "Setting."
Then click on "Language," you will be able to change language and voice over there.
So language will only change the text of the game, and voice-over will change the voice into the language.
You can choose a different language and voice-overs as you like.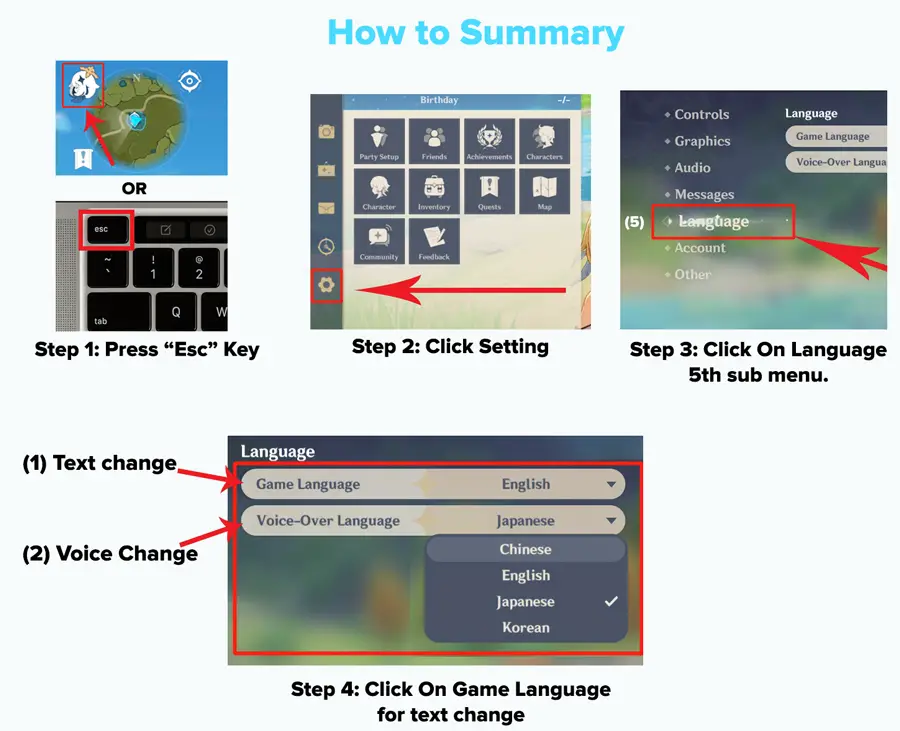 These are the steps for changing the language of Genshin Impact.
Step 1. Press "Esc" for Paimon menu
While playing Genshin Impact, you need to press "Esc" on PC(Windows or MAC) to go to the Paimon menu.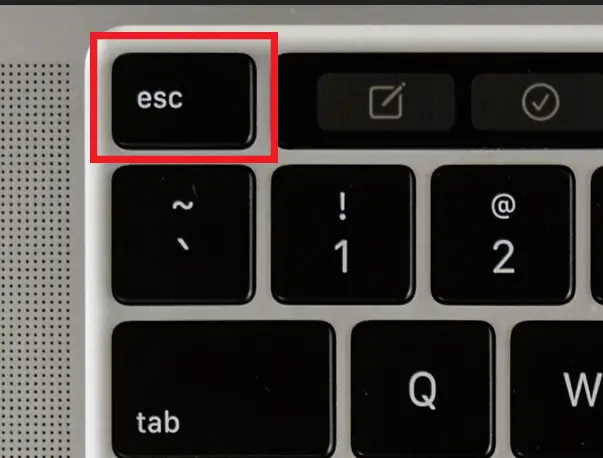 You need to press the Paimon Icon on Mobile( IOS or Andriod) to go to the Paimon menu.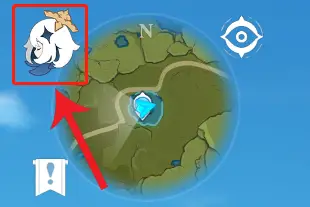 On Play Station, you need to press the "options" button in the controller.
The rest of the process is the same for all platforms.
Step 2. Click on Setting icon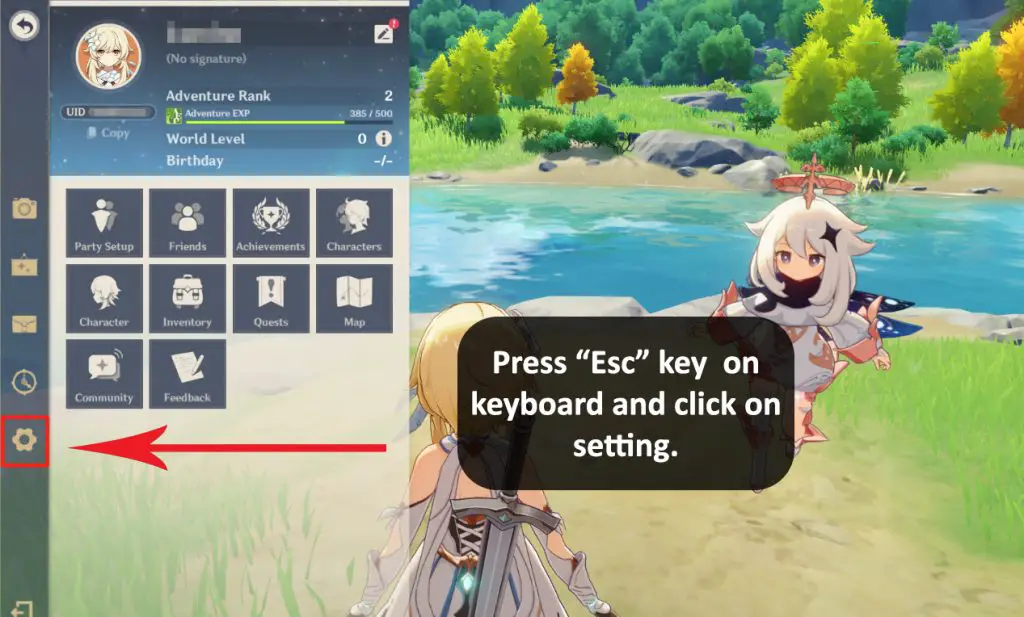 After you have pressed the "Esc" key, click on the Gear icon on the left of the screen to go to the Setting Page.
Step 3. Click on 5th Sub menu "language"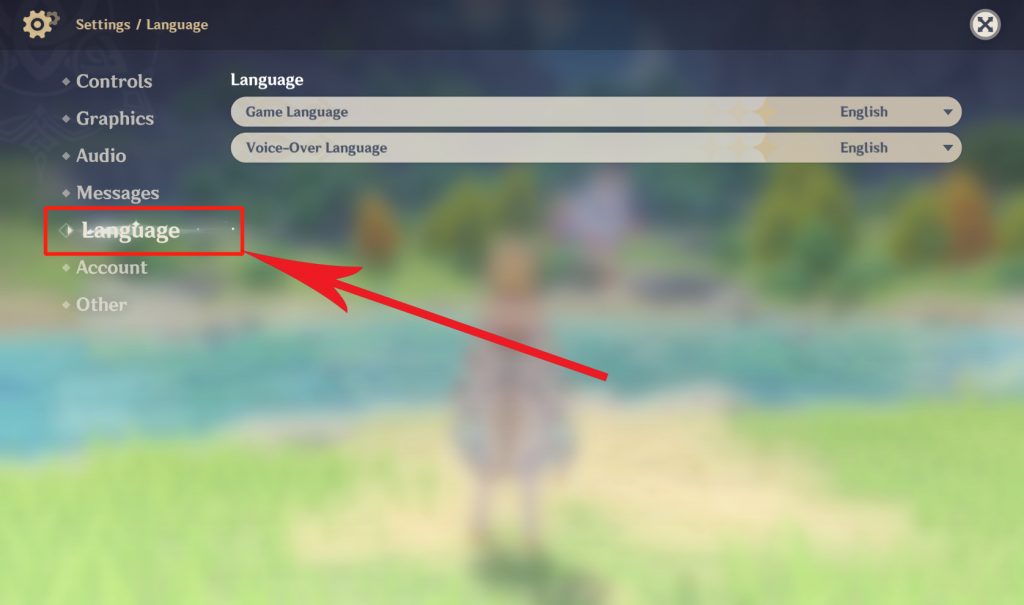 After you have opened the setting page, You will see a lot of sub-settings. For example, click on the 5th Setting, which is language.
It will take open up Lagauge controls.
Step 4. Change the game language
The First Select Option is for Game Language. which is the text of Genshin Impact.
Changin would change the text on everything if you changed it to Japanese. It will change everything in Japanese.
Game Language = Game text
You have 13 languages to choose from in dropbox.
Choose Game language carefully. Once you change the text, it will change in all games.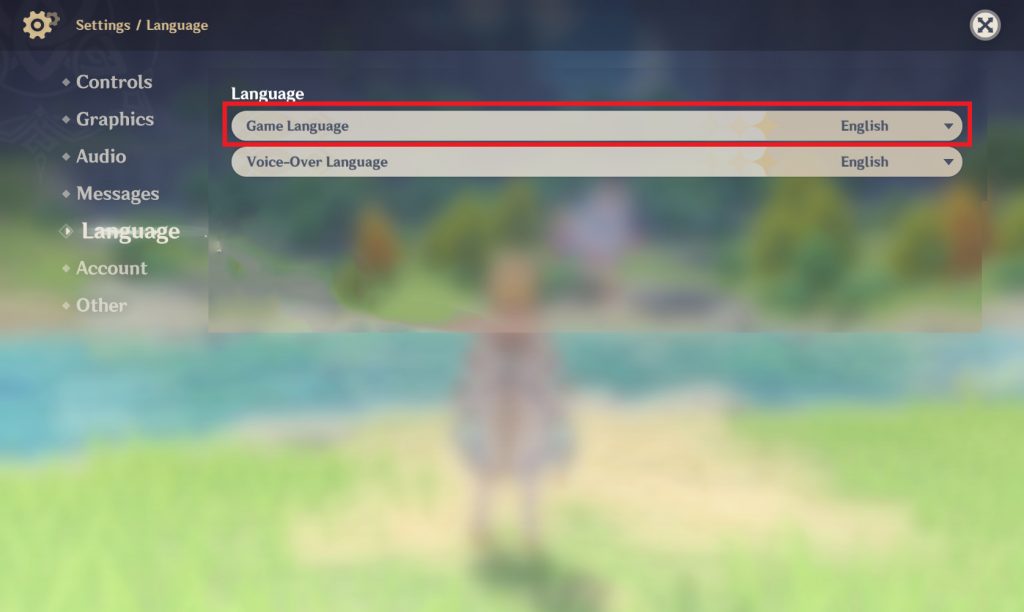 Step 5. Change the voice-over language
If you want to change the voice of characters in-game, you need to change the second option, which is "Voice-Over Language."
This will change any voice by characters or for any in-game animations.
You have four options in Voice-Over Language.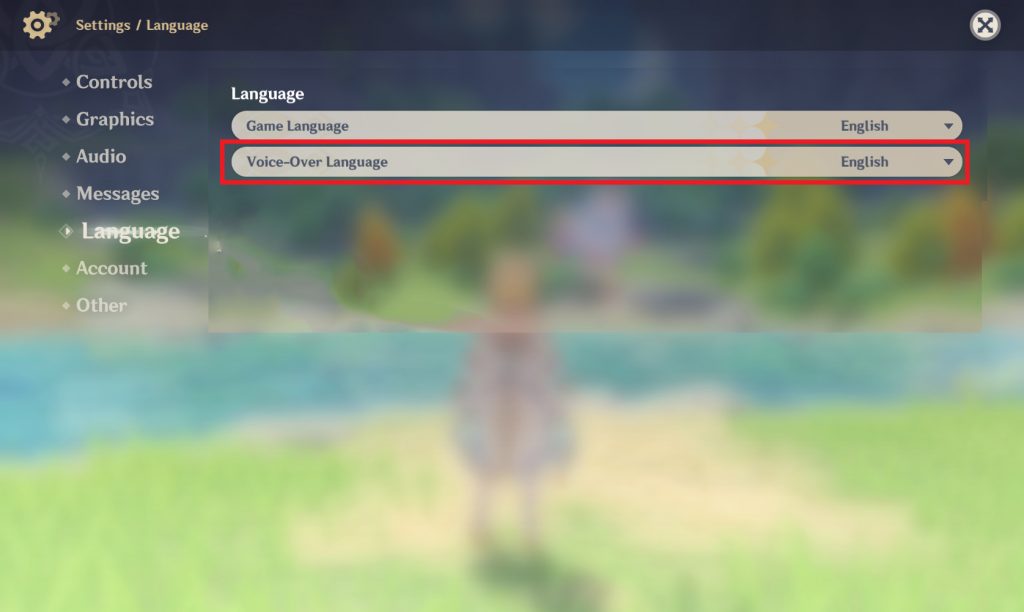 Conclusion
Genshin Impact feels like Anime playing in front of you. However, if you do not understand the characters' voices, you might not enjoy Genshin Impact.
Genshin Impact has excellent Chinese and Japanese voice-overs because these are performed by actors and actresses. Even most users think that game is Japanese, but it's a Chinese game developed by a Chinese game studio.
The English dub is less authentic than the Chinese and Japanese voice-overs.