Is your Instagram account temporarily locked?. Account locked messages can be shown on your mobile screen for many reasons, such as Third-party apps, bot-like activity, phishing, etc., which I will discuss in detail. And the possible solution for you is to get your Instagram id back.
The entire error message is, "We've detected suspicious activity on your Instagram account and have temporarily locked it as a security precaution."
Why is my account locked?
Bot like activity?
The bot is a written program that performs actions like humans but fast. Instagram has a limit of actions per hour and actions per 24 hours. If the limit is crossed Instagram server will temporarily lock your account.
Following and Unfollowing Users in Bulk
Instagram has a feature where you can "follow" users, and they can "follow" you straight back. To exploit this feature, one could "follow" hundreds of users, and once they have "followed" you back, the person "unfollows" them.
Instagram blocks this bot-like behavior, and humans using the platform have agreed not to abuse the platform with such behaviors.
Liking and Unliking Pictures Too Fastly
Again, if someone likes images at a rate that is not possible by humans will trigger lock like liking 100 images in a minute. Programs achieve this.
Commenting on Posts too Fastly
The comments can get you to follow back on people's posts. But too fast comments on posts seem bot-like behavior.
Posting the same comment multiple times
if one makes the same comment in multiple posts. That can well be something users won't appreciate. So it is again bot-like behavior.
Third Party Apps
Third-party can give us advantages or features in performing actions not available in Instagram by default. Like liking images, unfollowing bunk people, showing statistics, etc.
Apps that violate terms of use will abuse the platform, and accounts getting locked eventually.
To get rid of all third-party apps, go to security settings in your Instagram account. In your security settings, go to "Apps and websites"> Active > tap on "Remove" on third-party apps.
Phished Account Credentials
Suppose you have signed in to a website or app that looks precisely like Instagram but is not. You may have given your login details to hackers. Hackers can use your account to do any stuff they like.
Since your account is hacked and what hackers have done is uncertain behavior which has triggered the account lock.
How can i unlock my Instagram account?
To activate back your Instagram account, you need to follow the process.
Filling out the form "My Instagram account has been deactivated."
You will get an email that will ask for photo and code on a piece of paper.
You need to wait for 3 to 5 days. Due to the high number of forms submissions, it takes time to process.
Don't fall for scams to get your Instagram account back in a hurry. Doing this will only make matters worse.
Technically you would recover your account by a six-digit code sent to your Email or phone.
However, many users have reported that the code isn't sent.
And Even if they received it would get them to the same screen Of Account Deactivated screen.
Step 1: Submit the "My Instagram account has been deactivated" form
To unlock the Instagram account, you need to fill out the Instagram deactivation form. You need to fill in your details.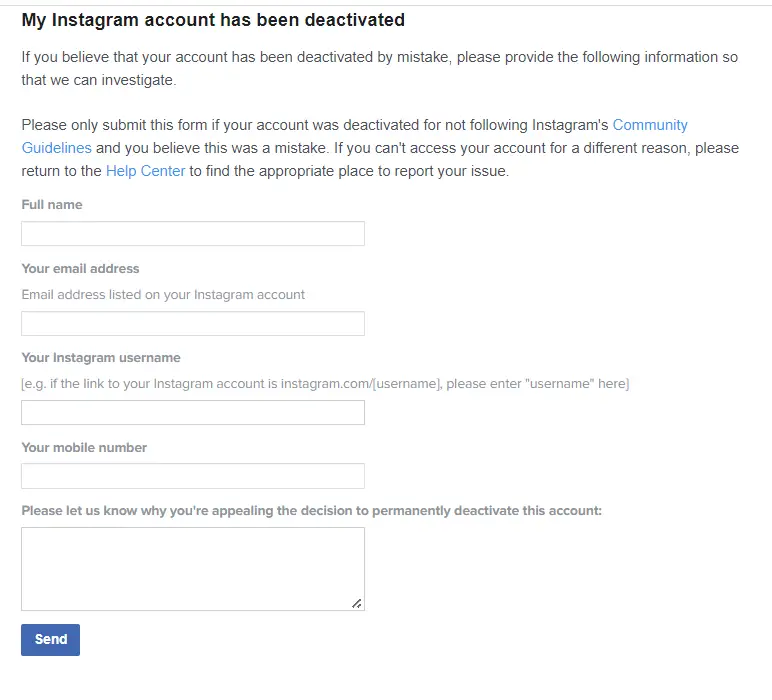 When you are on the form, write your full name like ("John Adam").
Then, write your Email that is linked to Instagram. Other emails won't work because your Email is used to verify the identity of your Instagram account.
Next, write your correct username and mobile number. Finally, explain your account was deactivated by mistake; you haven't violated any guidelines. Click on "Send" to submit the form.
Step 2: Send a photo of yourself holding the code
After you have submitted the form, you will receive an email. In this Email, you will be asked for your photo with code. You need to take a picture of yourself with code written on a piece of paper. The code can be anything like "123456".
This process is to verify you are a human, not a bot. The picture needs to be clear and in JPEG format.
Step 3: Wait for reactivation of your Intagram Account
This will take time from 3 to 7 working days. There are many submissions. So it will take time to process each submission. It can take weeks. Don't send repeat emails. Your Email might be put in spam.
How long will my Instagram Account be locked?
The Instagram account lock will remain until you fill the form and fill the form and send your picture with code. If you have revied the second Email and they deny opening the lock. Then it might stay that way, or they are asking for some other verification then follow the guidelines.
Conclusion
Whether it's Facebook, Instagram, Twitter, or any other social platform, you should have a second account as a backup if your business or work depends on it. So you don't have any difficulty operating until the original doesn't reactivate or revive