Does your IPTV have a playback error, reconnecting in 3s error, and freezing with the loading circle, or maybe even the stream suddenly stops?
When an error is displayed, like a 'Playback failed' error or 'Stream Unavailable.' It is a block placed on IPTV by Internet Service Providers (ISP). These blocks are placed due to some sports event or other reasons.
IPTV is next-generation TV where data is sent over the internet rather than dishes and satellites.
With crisp Image quality, a Wide range of TV channels to choose from, and no hustle of dish cable and setting, IPTV is really advanced technology as compared to dish TV.
But when IPTV starts buffering and freezing, it makes you think about your life choices. It's that frustrating.
I have read many forms and experts' advice on how to fix IPTV playback errors and buffer issues.
I will discuss why you receive a Playback error and how you can fix it.
Why IPTV Playback Error?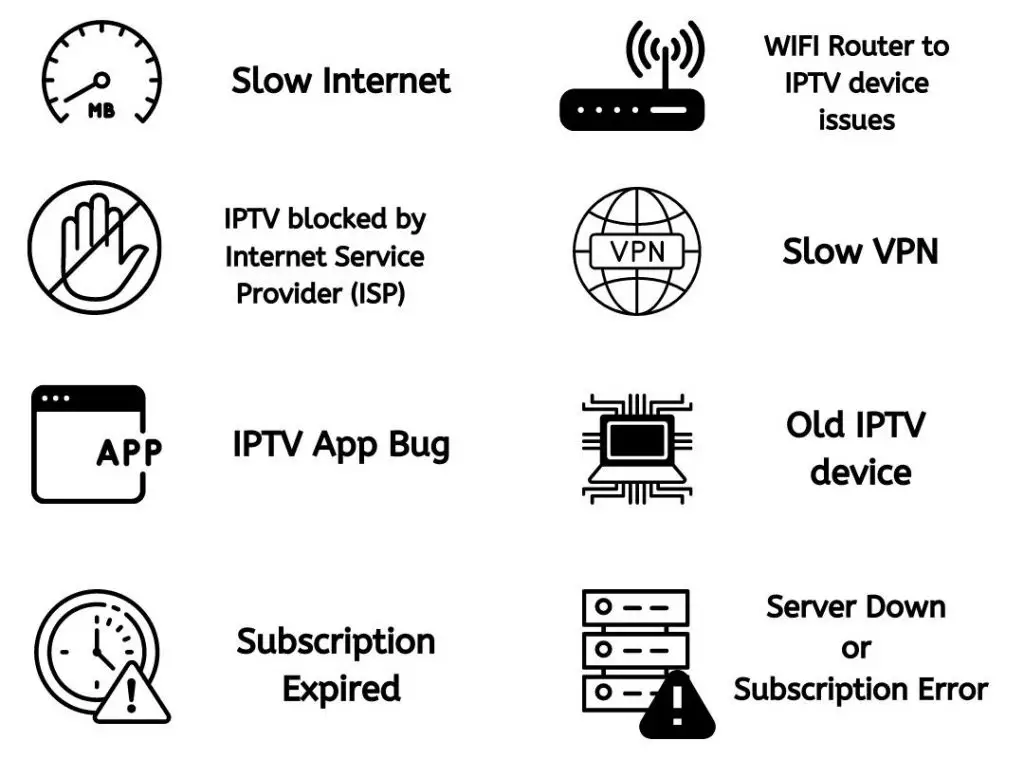 IPTV needs the internet to transfer data packets from the server to the client device so the IPTV can work seamlessly.
Sometimes Internet Service Provider blocks the IPTV resulting in 'Stream Not Available.
ISP puts blocks to save the bandwidth of the internet. Usually, when there are sports events.
To bypass ISP blocks, You need to use a VPN. A good VPN should not affect your internet speeds. Otherwise, IPTV will buffer.
Playback error or Buffering is usually caused by not having a solid connection between the WIFI router and an IPTV device like a firestick.
If your IPTV device is too old or is full of apps, then your device will not run or be able to process the streaming, which will cause buffering.
One reason is Subscription is expired of IPTV or there is server is mistaken for expired.
How to fix IPTV playback error?
1. Check Your WIFI Connection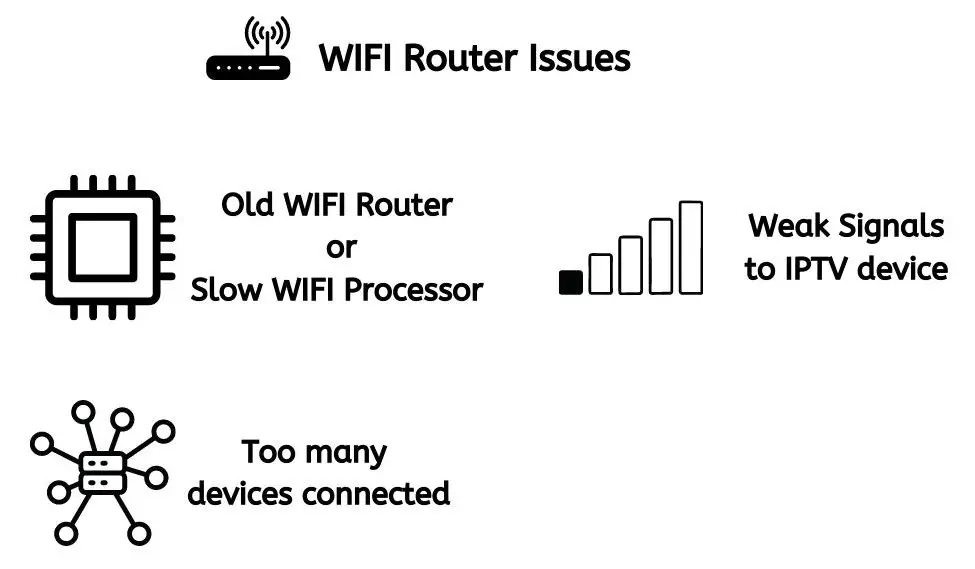 Mostly the problem of buffering is due to WIFI router IPTV device connection.
Your internet connection should have 2 Mbs speed available to IPTV. This means you should have more than 2+Mbs internet connection. Otherwise, IPTV won't work continuously. It would freeze and buffer.
If the WIFI router has too much load meaning many devices are attached, it won't be able to run IPTV seamlessly.
To find if the problem is in WIFI or speed, change the IPTV device's network to mobile hotspot 4g but remember that mobile data hotspots should have high speed.
If IPTV works perfectly on a Mobile hotspot, then the problem lies in the WIFI device.
How to Fix WIFI to remove IPTV Error?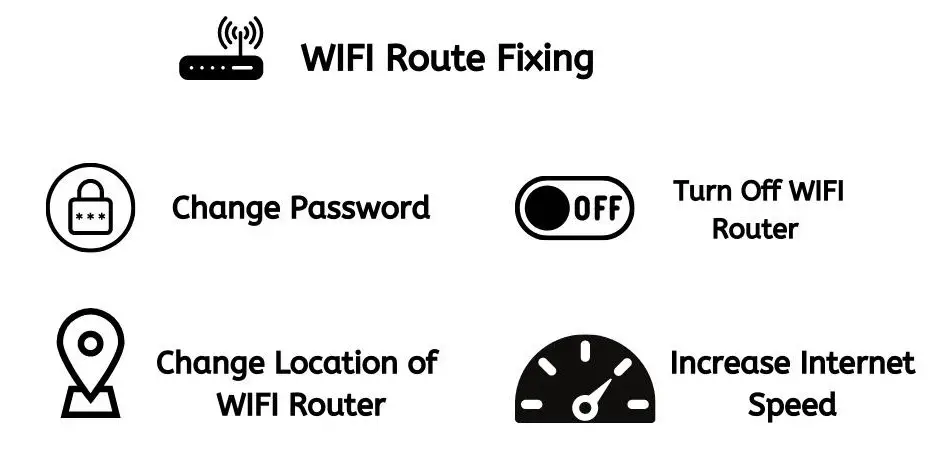 Here are the solutions you can try to fix the WIFI problem.
Switch off WIFI for 5 mins and restart WIFI to see if it fixes the problem of IPTV buffering.
Change the password of the WIFI router and check IPTV. If this works, then it means the WIFI router had many users.
Change the location of the WIFI router brings it closer to the IPTV device.
Try to increase the bandwidth of the internet, meaning increasing the internet speed connection.
Alternative to WIFI Connection (Ethernet Connection; Wired)
If IPTV is still not working after trying fixes on WIFI, but IPTV works fine on Mobile Hotspot. So you know WIFI is definitively a problem.
Many IPTV devices like firestick have a type C or micro USB port, which you can connect to the adopter and wire to the internet with an ethernet cable.
Using an Ethernet cable to connect an IPTV device to an internet connection has helped many users fixing IPTV Playback error.
Below are the links to ethernet adapters on Amazon, which will help you wire the IPTV device. The newer generation supports type C cable while the older generation supports Micro USB. You should know your IPTV device charging cable.

Most IPTV devices have a micro USB port. So the ethernet adapter needs to be Micro USB.
List of Best Internet Adopters for IPTV Devices
2. Problem with IPTV Device

Sometimes the problem lies within IPTV devices, which causes buffering and freezing.
If your IPTV device is too old, it can not process the stream, which has updated data type, and cant process WIFI signals, which causes freezing and buffering.
You should buy a new IPTV device for better quality and seamless playing.
You should buy a new IPTV device because the server changes stream type like heiv to heiv+, which older device doesn't support or can't process.
Fixing IPTV Device (Firestick or other)
Go into the setting of the IPTV application and clear the cache and see if it fixes the problem.
Factory reset IPTV device. If these work, don't install excess apps; this will slow down the device.
3. Problem within the IPTV Application
Sometimes the apps don't update the subscription date and DNS.
An option on the IPTV application is available to update content, DNS, and expiration date.
But it is a good idea to clear the cache of the IPTV application and log in again. This will remove the bugs and fix the IPTV application.
Ask IPTV Service Providers
If nothing is working for you. You should not wait to ask the IPTV service providers.
You pay them with your money. They should provide excellent service.
Conclusion
IPTV service has server downtime, not responding and saying playback error, reconnecting in 3s.
If this is too often, you need to change the IPTV service and try a new one. There are a lot of them.
Most IPTV service providers are resellers. They are just providing the same service with different names; you can tell after seeing their application and website. It will match with content and style.
Avoid cheap IPTV subscriptions and buy good IPTV services.